Do I have to create an account to order from titaniumoptix.com?
No, you can choose to check out as a guest. However, creating an account allows you to save your shipping information, track orders, request or view status of warranty and refund requests and other preferences that can make shopping on titaniumoptix.com quicker and more convenient in the future. Some promotions may not apply if you don't own an account.
Where is my order receipt?
You should have received a copy of your order receipt at the email address used to place your order. However, if you didn't or you need another copy, log in to your account and click on order history. This page will show you all the previous orders placed with us.
You may also contact us and we will send a copy of the receipt to your email address.
May I try your glasses on at home before I buy them?
We do not offer that service. However, if you're not happy with your order, we offer a 7 days 'no questions asked' return policy which is pretty close.
Canceling an order
Please contact us within 24 hours after payment in order to cancel your order. Please note that once an order is marked 'Completed', it cannot be canceled.
Do you ship worldwide?
Yes, we ship products worldwide. The customer is responsible for paying all duties and taxes associated with international shipping.
The offer of free shipping applies to all international orders.
How much is shipping to my address?
Shipping is free to any address worldwide.
Are there any international addresses that you can't ship to?
No. We can ship to any address worldwide.
How long does it take to receive my glasses?
You should expect your new glasses anytime between 20 to 30 days after payment.
Where do you ship from?
Your new glasses are shipped from one of our warehouse in Romania/Europe or China/Asia.
Do you provide tracking information?
Yes. Once your order is completed, a tracking number and 'TRACK' button will appear when viewing the order in your account.
I only received the glasses. Where is my carrying case?
To save costs, we ship directly from producers and various warehouses, therefore your carrying case might arrive with a different shipment.
I only received a part of my order. Where are the other items?
To save costs, we ship directly from producers and various warehouses, therefore multiple items might arrive in different shipments.
What is your return/exchange policy
If for any reason you are not completely satisfied with your eyeglasses frames or sunglasses, you may return them, but you must return them within 7 days for a full, immediate refund. After 7 days, if you detect a manufacturing defect that is covered by our 12 months warranty, return the glasses to us and we will process the return with the manufacturer. (view what's covered and what's not)
How to return an item?
If you are not satisfied with your new eyewear, and you want to return them for a full refund or replacement, please go to my account, orders section and locate your order.  Click on 'REQUEST WARRANTY'.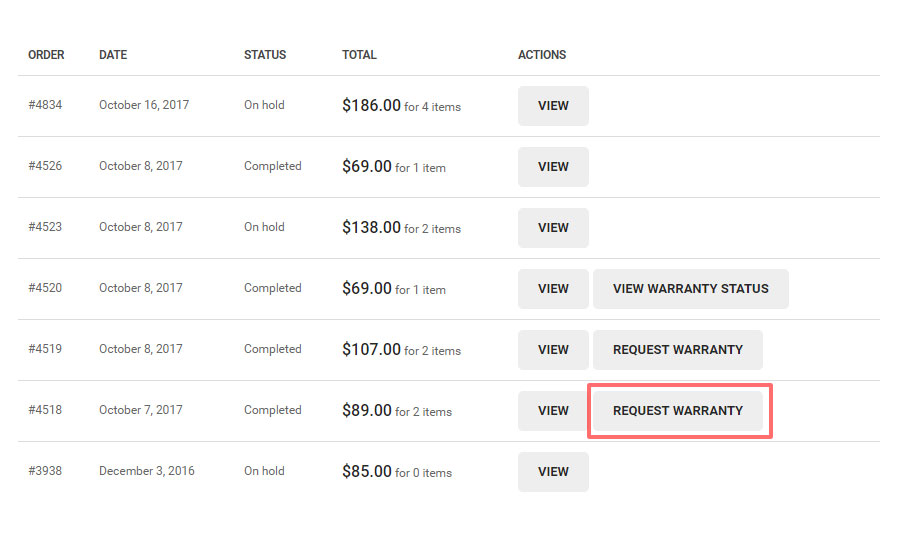 On the next screen check the items you want to return and click again 'REQUEST WARRANTY'.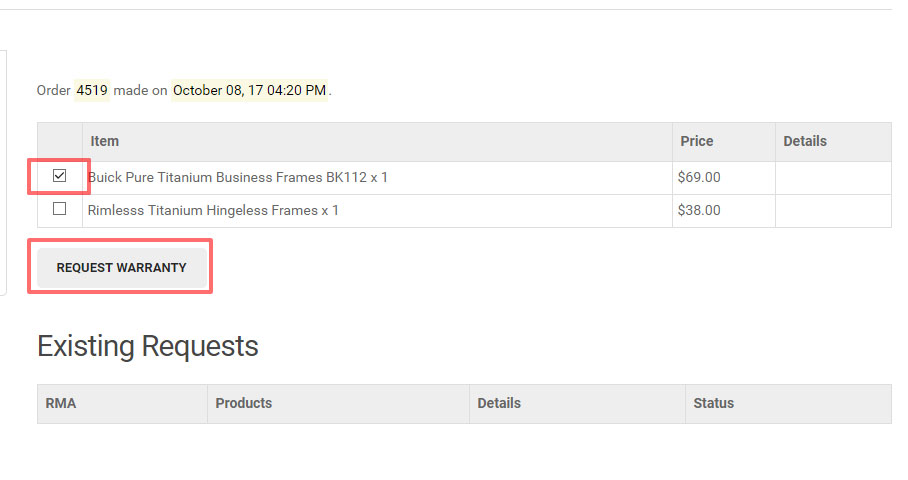 On the final screen please provide us with some more info about your request and press 'SUBMIT'.

Your return/replacement request has now been placed. You can check back anytime to your account to review the status of your warranty request and return shipping information.
How do I repackage for return?
Make sure the item is in perfect condition, the same as when you received it. All returned merchandise must be in its original saleable condition when received. Please be sure to include all of the original material that titaniumoptix.com and the manufacturer sent with the merchandise. Your return is postmarked within 30 days from the day we shipped it to you originally. No collect shipments will be accepted and we do not pay for return postage.  You send your return any method. We cannot be responsible for items that are lost in the mail on the way back to us so we recommend some form of delivery confirmation. Please write the reason for the return on the back of your packing slip. Enclose the slip in the original packing box, tape the box securely, and send it to the address provided as a response to your WARRANTY REQUEST made from your account. If you do not have your packing slip, please write your name, address, email address, order number, and date you placed the order on a separate piece of paper.